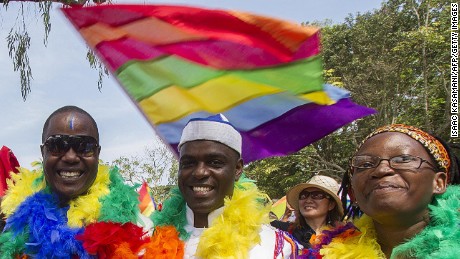 (CNN)In much of Africa — where 35 out of 54 countries ban homosexuality, and where it's punishable by death in four countries — being openly gay requires a staggering amount of bravery. So imagine the courage it took to curate and submit to the 2014 LGBT-themed anthology Queer Africa: New and Collected Fiction.
The work was instantly lauded on publication, winning a
Lambda Literary Award
for best LGBT anthology, and general praise. It was described by poet Gabeba Baderoon as "a collection of unapologetic, tangled, tender, funny, bruising and brilliant stories about the many ways in which we love each other on the continent."
It's evidence, says Leda Avgousti, Amnesty Sexual Orientation and Gender Identity Adviser, that "art is one way to change homophobic and transphobic attitudes that fuel discrimination against LGBTI people.
"Art has the power to challenge discrimination and violence by bringing the message of equality and human rights into the mainstream. It gives us the tools to create much needed social change."
When "Queer Africa" won its Lambda Award, Xaba says "that was it." There was no follow through, no further debates. She hopes therefore that the next anthology will inspire more discussion, and bring African LGBTI issues further into the light.
"Optimism has grown in many countries in the continent. Activism has grown in many countries, even though the laws may not have changed. When there's activism on the ground, the language changes, the attitude changes and the thinking changes," she says.
Writers who have submitted their stories can expect to hear from Xaba and Martin by April 30, when the final selection will be made. As for the release date: we'll have to remain patient — with 82 entries to critique and whittle down, the curators have a happy problem on their hands.
Read more: http://edition.cnn.com/