FOX's upcoming Beverly Hills 90210 revival is proving to have no shortage of drama… and we're not talking about on screen!
According to Variety, showrunner Patrick Sean Smith, along with several senior writers, have upped and quit the six-episode series, which is titled BH90210.
It's unclear what led to the behind-the-scenes drama, but one source told the publication that the dispute was due to interference from two of the show's lead actresses. Another insider, meanwhile, claimed that the writers were unhappy with one of the executives overseeing the much hyped revival.
BH90210 will now be helmed by Paul Sciarrotta, a member of the show's writing staff who currently has an overall deal with CBS Television Studios, which is producing the series. Sciarrotta will be showrunner alongside series creators Chris Alberghini and Mike Chessler.
Video: Angelina Jolie & Michelle Pfeiffer Face Off In 'Maleficent: Mistress Of Evil' Trailer
The trio will executive produce the project with original cast members Jason Priestley, Shannen Doherty, Jennie Garth, Ian Ziering, Gabrielle Carteris, Brian Austin Green, and Tori Spelling — who are all set to star in the series.
However, the OG cast won't be playing the characters they played on the show: they'll all be playing heightened versions of themselves!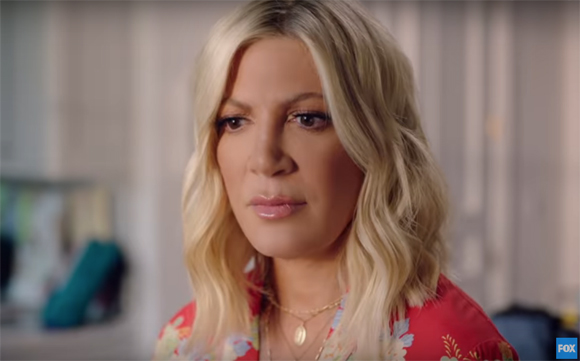 The series will catch up with each "actor" having gone their separate ways since the original series ended 19 years ago. When one of them suggests it's time to get a Beverly Hills, 90210 reboot up and running, Jason, Jennie, Ian, Gabrielle, Brian and Tori reunite and try to make that happen.
The latest trailer FOX released earlier this week teases this lighter tone. Ch-ch-check it out (below).
As we reported, the 90210 revival will also find a way to honor original cast member Luke Perry, who died following a stroke earlier this year.
At an INTV conference in Jerusalem back in March, CBS TV Studios president David Stapf revealed that the writers were in the middle of figuring out a way to incorporate the late Perry, who played bad boy Dylan McKay in the original series, in the revival.
Stapf also revealed at the conference that Spelling was actually the one who pitched the project. He explained:
"Tori Spelling, as she is wont to do, comes in and pitches a lot of ideas and is in our offices a lot. She kicked the idea around of 'Wouldn't it be fun to get the whole gang back together?' … [She] literally put the entire cast together, put a fabulous pitch together with all of them and took it out, and everybody wanted it."
So, it sounds like this revival could potentially be… a really smart meta-comedy? We won't get our hopes up too high, but the concept alone is ripe for some hilarious commentary on the "reboot" era of television we're currently in.
Also, who doesn't want to see Tori Spelling playing a wacky(er) version of Tori Spelling?!
BH90210 is set to debut on FOX on August 7. Will U be watching?
[Image via FOX]
Read more: http://perezhilton.com/