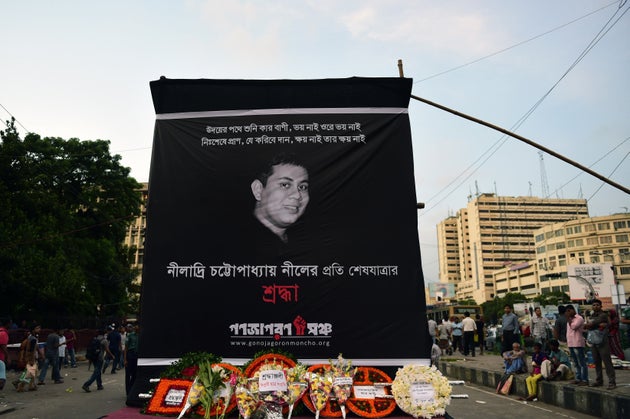 Every week, we bring you one overlooked aspect of the stories that made news in recent days. You noticed the media forgot all about another story's basic facts? Tweet @TheWorldPost or let us know on our Facebook page.
Faisal Abedin Deepan was found hacked to death at his office in Dhaka, the capital of Bangladesh, this past Saturday. A secular book publisher, Deepan had printed writing that discussed topics like atheism and sexual orientation, and his work had garnered him death threats from religious extremists.
The murder is one of several attacks by religious extremists this year targeting Bangladesh's secular, liberal literary community.
The most prominent of these killings was also the first of the year. In February, a group of suspected Islamist extremists murdered noted Bangladeshi-American liberal blogger Avijit Roy with machetes. Roy's wife, blogger Rafida Ahmed, was wounded in the same attack. The militants chopped off one of her fingers.
Since then, four other secular writers and publishers have been killed, as well as an Italian aid worker and a 66-year-old Japanese man visiting the country on a business trip. Numerous others have been wounded in shootings and stabbings, including another three people in a separate attack on the same day that Deepan was murdered.
The incidents have stirred up fears of rising religious extremism in the majority Muslim but officially secular nation. After Roy's killing, hundreds demonstrated in Dhaka against the murder, while members of Bangladesh's media called for greater protection for non-religious writers. On Monday after Deepan's murder, publishers and book stores closed their businesses to demand that the government stop the violence.
Read more: http://www.huffingtonpost.com/