From Modrics magic and Pavards screamer to unwelcome theatrics and wearing the wrong T-shirt, our writers give their take on the tournament in Russia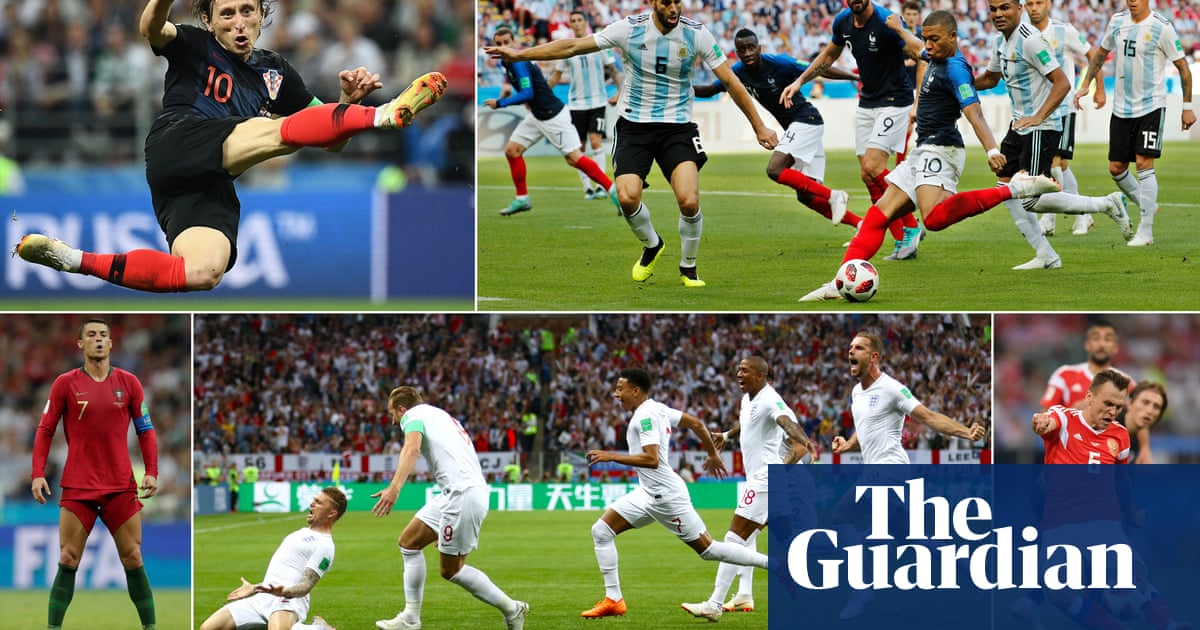 Nick Ames

Match of the tournament Russia v Croatia had it all: a spectacular goal from Denis Cheryshev, unbearable tension during a see-sawing extra-time period, raucous celebrations when Mrio Fernandes equalised and then shootout heartache for the hosts followed quickly by an acknowledgment that they should hold their heads high.
Player of the tournament Luka Modric. He was influential from the first game but by extra time of the Croatia v England game it was impossible to take your eyes off him. Modric has played more fluently but the way he dragged himself and his team through against the odds was breathtaking.
Goal of the tournament It seems a long time ago now but Ricardo Quaresmas trademark trivela for Portugal against Iran was a luscious piece of skill that bears watching time and again.
Personal highlight It sounds a bit mawkish but watching the sun rise over Kazan Arena from my apartment, only a few hours after seeing France beat Argentina 4-3 there in a stunning game of football, gave rise to a feeling of immense gladness simply to be here. Nobody would take covering this tournament for granted.
Biggest disappointment That we did not see a more diverse tournament from the quarter-finals onwards. Europes primacy was disconcerting and, while we may have to wait to see if it is a trend, not entirely surprising. It was a regret off the pitch, too, because the vibrancy that tens of thousands of Latin American fans brought to the early stages was one of the aspects that made this month special.
Trickiest off-field moment The weight of responsibility has rarely felt heavier than when, having booked a minibus to take yours truly and seven colleagues from Kazan to Samara in time for England v Sweden, the vehicle arrived an hour and 20 minutes late. That was the good news. A confused driver, who had somehow got lost en route to our apartment, then emerged and explained that (a) the sound on his sat nav had packed in and (b) he didnt know the way to Samara anyway. At this point the risk of blank column inches across several of the UKs major organs looked severe but, with the help of our phones and a rotation of front-seat assistants, we just about muddled through the six-hour journey in time to cover the quarter-final.
Fondest memory of Russia Less a specific memory than simple pleasure that visiting supporters and locals interacted so joyfully and saw each others best sides. In regional cities such as Samara and Volgograd, particularly, one could see just how much it meant to people who had never experienced anything like this before; the only shame is that so few fans from western Europe, in particular, felt emboldened to join in.
What now for England? The good feeling of this summer must be bottled because normality will kick in soon and the reality is that, if England are to succeed, they need to ensure the best players are given a workable pathway to the top. The current crop are decent but not good enough to lift major trophies: until top clubs development processes tilt in favour of the players that will remain the case.
Dominic Fifield
Match of the tournamentPortugal 3-3 Spain, a game which set the bar high for the tournament and probably gave both teams false hope as to their own capabilities in Russia. Cristiano Ronaldo was a force of nature, Spain pinged their passes and looked irrepressible and an upbeat tone was set for everything that followed. The World Cup, if not necessarily Spain and Portugal, lived up to expectations thereafter.
Player of the tournament Eden Hazard. The Premier League has long grown accustomed to the Belgians genius but here he was illuminating the world stage. He provided goals, assists and mesmeric dribbles and will have been privately disappointed to finish only third, even if his declaration that his time at Chelsea may be up was a sting in the tail.